Welcome to Miller & Mullet Online!
Miller: Hello, I'm Ed Miller and this is my associate, Mullet.
Mullet: Ta-da!
Miller: Together, we are Miller & Mullet! Welcome to millerandmullet.com, our official website.
Mullet: Of world famous entertainers us.
Miller: Yes, well, feel free to explore our site and spend money in our store.
Mullet: And look at thi--
Miller: Shut up.
Edward Q. Miller
Producer

Jean-Paul Mullét
Producer
Who Are Miller & Mullet?
Miller & Mullet are professional comedians with reasonable rates. They are available for cabarets, burlesques, video shoots, store openings, comic book conventions, public demonstrations, porno, weddings, funerals, bachelorette parties, debutante balls, pub crawls, bar mitzvahs, bat mitzvahs, bachelorette parties, and lawsuits.
Introducing Ed Miller...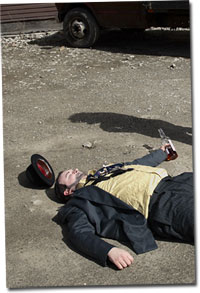 Ed Miller has performed with partner-in-crime Mullet for over 5 years and is noted for his punctuality and intern parties. Miller has appeared on stage, screen, and the street, but never at a childrenís birthday party. He has written, directed, and produced several Miller & Mullet videos, co-created the Miller & Mullet comic book, and has four overdue library books about World War II. He is currently producing the very first Miller & Mullet DVD and writing an autobiographical comic strip to be published by Ed Miller Self-Publishing Publishers. Both will see a summer 2007 release. His favourite colour is blue and his hobbies include busty women.
Introducing Mullet...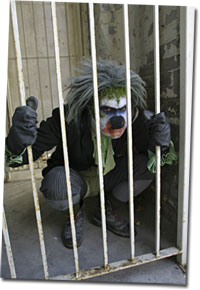 Jean-Paul Mullét was born in 1726, died in 1747, and washed up onshore 100 years later. More recently, he has worked alongside Miller as co-conspirator of all Miller & Mullet productions. In 2004, he made his directorial debut with the video Mulletís Day Off but, ever since, has been stuck in post-production, working 11-day weeks. Mullet doesnít understand irony, unions, or editing software. His hobbies include playing piano and his favourite colour is 13.
Where are Miller & Mullet?
Miller & Mullet are based in Toronto, Canada, located in the western hemisphere near the subway. Due to spending so much time touring, they donít have a fixed address.
Miller: Thatís our story and weíre sticking to it. We spend so much time on the road...
Mullet: We go to the curb to get a passport.
Miller: You screwed it up.
Mullet: No, Iím awesome.
Miller: No, itís "we need a passport just to go to the curb."
Mullet: You need a passport to be a pirate?
Miller: What?
Mullet: I like hook-hands.
Miller: Right. Well... goodnight, everybody!
Brief History
Ed Miller was born in Oshawa. Later, during a trip to Toronto, he met Mullet, who won't say where he's from. That same trip, Miller met a juggler named Elmer Zaplatinski and the three formed Miller, Mullet & Zaplatinski. The trio toured across Canada, appearing in what remains of Canada's once mighty vaudeville circuit. Their first show, Water You Doing, led to their second show, Water You Doing II: Water's Revenge, which led to their third show, Water I Have To Give You For That Bottle Of Vermouth, which led to Zaplatinski's departure to pursue newfound fanatical religious beliefs. Never one to give up when comedy's involved, Miller, writing on the back of an envelope, some old newspapers, and a nearby wall, created the largely forgotten but always remembered two-man show Shoo-Shoo Baby. And so Miller & Mullet were born. The show, while not officially part of the Winnipeg Fringe (despite the advertising), was a success and closed after over one hundred performances, including those in the Winnipeg Police lockup, to captivated audiences.
Deciding that theatre sucked, Miller & Mullet began work on an epic-length feature film, to be shot on an old camcorder they found in a dumpster. Twenty months later, Miller & Mullet: Babysitters was complete. Today, the project remains unreleased, a living testament to the power of no-budget filmmaking and the trouble with unions. (UPDATE: Coming Fall 2009 to YouTube!)
Coming Soon
NEW website! NEW photos! Weekly movies! Weekly webcomics! Tri-weekly podcasts!

© 2006 Miller & Mullet™ Productions