Lights, Camel, Action!
UPDATE: We're releasing our first feature-length movie! On YouTube! New chapter every Friday! Go watch!
Miller & Mullet have been making movies for over 5 years, some of them with a camera. Miller & Mullet's guest appearances include Ed & Red's Night Party (G5 TV, MuchMusic, CITY-TV), the Gemini Awards (CBC-TV), and a brief off-camera non-appearance on Trailer Park Boys (Showcase).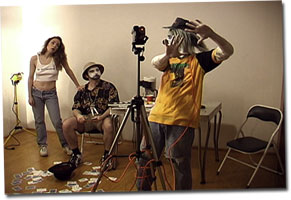 Coming Soon
Miller & Mullet are presently producing their first DVD, tentatively titled Miller & Mullet's Second DVD (to make them sound more professional). Their second DVD, to avoid confusion, will be titled Miller & Mullet's Fourth DVD and their fourth DVD will be titled Highspeed Motherf***kers on Ice Part 2: The Return of Tiger the Blue Heartthrob from Piano.
"I named the first two," says Ed Miller on the phone from Toronto, "So Mullet got to name the fourth. There will be no third. I'm going to retire before my fourth DVD comeback."
Miller & Mullet's Second DVD, a series of shorts exploring the pitfalls of urban life from the point of view of a boy and his zombie, began shooting in the summer of 2007. Work has proceeded slowly due to Miller & Mullet's busy touring schedule and many TV appearances.
"We're working hard to make this the best DVD ever," reports Miller, "Except that one DVD … what was it called … Busty Stewardesses Gone Wild Volume 7. That's the best DVD ever, so, in actual fact, we'll make the second best DVD ever."
"I play me," Mullet explains. "I don't audition."
Ed Miller expects the DVD to be available for sale in July, 2008 in North America, and in 2009 for the rest of the world. He also hopes to have the shorts online for low-res downloads. Mullet had no comment about the DVD or the downloads, but did say that he thought there should be more tigers in Thunderbay.
The Second DVD will also include many special features, including rare footage from old projects such as Miller & Mullet's dramatic debut Babysitters (2003), the vacation comedy Mullet's Day Off (2004), and archival footage of TV interviews and guest appearances.
Be sure to check back for updates on the DVD and for links to the shorts. (UPDATE: Miller & Mullet's first feature, Babysitters is coming Fall 2009 to YouTube!)
Who Works for These Jerks?
Here, in no particular order, are just a few of the many talented people Miller & Mullet have been fortunate enough to play with:
- Ed the Sock & Liana K. (Ed & Red's Night Party)
- Colin Mochrie (Whose Line Is It Anyway?)
- Katherine Curtis (Naked News)
- Sandy Jobin-Bevans (Harold & Kumar Go To White Castle)
- Albert W. Howell (This Hour Has 22 Minutes)
- Andrew Currie (The Devil's Advocates)

Miller & Mullet are very grateful for everyone's support. Except except whoever stole Ed's microphone cable.

© 2006 Miller & Mullet™ Productions